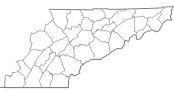 Top Air Quality Links
Click here to access the state of Tennessee's site for information on the ozone forecasting and monitoring program. The site contains historical data for both forecasted and monitored data.
GSMNP - Click here (or below) to see the Webpage that provides a current view of the Great Smoky Mountains National Park from Look Rock! Also has links from there to several pieces of information including the current air quality information for the park, what it looks like on good and bad days from Look Rock, and a park map showing the camera field of view.